Music Spotlights (from The Villager newspaper - Ellicottville,NY)
Jeez Luweez Brings "Chick Rock" to Balloons
By Garrett Lyons
When is the last time you saw a band that labeled their sound as "chick rock?" Now, when is the last time you ever thought you would see such a band in Ellicottville? Saturday, May 6th - that is precisely what you will see at Balloons Restaurant & Night Club as Jeez Luweez brings their live act to Ellicottville.
Jeez Luweez is an all-female rock band made up of Cassandra Postek (vocals/drums), Debbie Ritch (guitars), and Julee Ballistrea (vocals). They perform a mix of covers ranging from The Doors to Alanis Morrisette, as well as original tracks. The originals are an interesting sound made up of either Evanescence or Blondie type vocals (depending on the singer), blistering guitars, heavy bass and fast paced drums. All of these different elements combine to form a sound that feels like a mix between Riot grrl punk like Sleater-Kinney and Led Zeppelin.
Jeez Luweez was formed in 2002 by former members of And Sometimes Y and Ethyl and have already released a debut 3-song "single CD" called "Worker Ant." Currently, the band is working on recording a full-length album.
Jeez Luweez is a band on the rise who promises to bring a lively show to Balloons this Saturday night. Their jaw-dropping rendition of Jefferson Airplane's "White Rabbit" is not to be missed. Any sort of rock music fan will enjoy this show.
Author's notes: Riot grrl is spelled this way, not Riot Girl (I triple checked Google on that one.) Info on the band came from jeezluweezband.tripod.com/jeezpage.html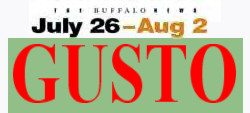 (excerpts from the article)
The girls in THE BAND
Buffalo 'chick rockers' are making some noise
By TONI RUBERTO
News Staff
7/26/2002
We're witnessing a new breed of women rockers in town. No fragile ladies here - even the daintiest of them rock so hard they can blow you away.
It was evident at last month's Artvoice Street Festival where our women of rock were everywhere: Veil's Cambridge; Erin Roberts and Renee Roberts of Puma, Kristen Gilmet and Sakura Paterniti of Global Village Idiots; Karin Koszuta of Rufus Maneuvers, Holly Christiano of Oui*73, and the Alison Pipitone Band. Plus many others, as well, including Maria Sebastian, the Larkin Administration (the new band from Val Pimento, ex-Palomar Sky Survey), the VooDoo Dollies and Jeez Luweez (with former members of Ethyl).
Drummer Cassandra Postek of Jeez Luweez, who has played on the local scene for nearly a decade with bands including And Sometimes Y and Ethyl, is happy to see more women rockers on the scene.
"I know there are a lot of female folk artists, but I'm finding chicks just want to go out and earn a little respect," she says. "Guys expect chicks to play folks songs and think it's left up to the men to thrash their hair and party. I think chicks are finally taking it by the reins and saying, "We can do that, too.' "
From "IDA'S REVIEW" on BRRTV.com
Hello again! Here is some reading that will peak your interest. I try to go out of my way to find bands that are new to or are returning to the scene. I saw two such bands before the Happening 6.0 and feel it is my duty to tell you about their existence. So, here it tis: On July 17th, I went to Nietzsche's and caught the single set of Jeez Luweez, a power-packed female trio lending both their combined experience and creative insights to the rock world. The band's members consist of the two cofounders: Debbie Ritch on drop-your-jaw, wailin' guitar and Cassandra Postek on animalistic drums and songwriting/vocals. Both Ritch and Postek are formerly of the all-female rock revues And Sometimes Y and Ethyl. Adding righteous and tasty low end to the group is Diane Gilleece on bass and backing vocals, also no stranger to the music scene. These women produce some of the catchiest, hard-driving, and sometimes haunting original music I've heard in a while. Three of these tunes, can be found on their cd, "Worker Ant" and on MP-3's on their website www.jeezluweez.com. The title track, along with the other 2 tunes "Enjoy the Show" and "Sweet" are a prime example of the well-produced, cleverly arranged work of these rocking women. I don't think I can even classify their sound, but it is definitely stuff that doesn't leave your head quickly. But, that's not all folks. This band is also able to crank out amazing cover versions of anything from Fleetwood Mac to Lenny Kravitz. And ask Postek for a killer drum solo, she'll be more than happy to oblige. Jeez Luweez is very interested in opening for other bands and I would be so bold as to suggest linking them to the likes of Bittersweet, Under the Eve, Skyjuice, or any number of bands whose original music is on the brink. If you'd like to hook up with this talented trio, go to the website. I guarantee you will not be disappointed!